A few days back, Adam "Kancept" McNutt alerted me to an interesting tidbit: in a nutshell, it appears that the final chapter in the Be Inc. saga has finally come to a close. Nearly a decade after Be's IP assets were sold to Palm (now Access Co.), the lingering tax liabilities have finally been dealt with – and the remaining assets have been distributed to shareholders.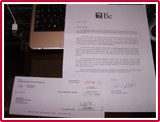 Kancept's EMail included an image of the cheque he received for his one share (at a whopping 8 cents per share) and the letter that accompanied it. For those of us who have been long-time BeOS users & remember watching Be's share price dwindle online, it's sure to come as a piece of bittersweet news.
On a related note, Kancept also mentioned that he's planning to list his extensive collection of BeOS / Haiku / ZETA-related memorabilia on eBay. So keep an eye out if you're interested in picking up a few pieces of BeOS history.