As read here on the Haiku Gazette work has been done on renewing a bit the GUI appearence.
After some evolving discussions in the forums (here and there) Denis Washington started work on the rendering code to make our UI look better as proposed in forum's mockups.
He now have a diff patch (which is still work in progress) but once applied it changes Haiku look to something like this: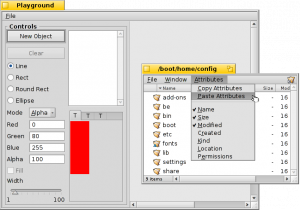 More information about the patch and how it evolves in this forum thread.
Wanna see a before / after comparison ? Head over here.